---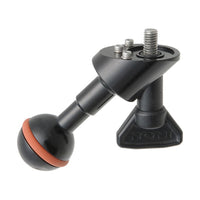 An adapter to attach Z-330/S-2000/Z-240/D-2000 strobe or Double Light Holder LE/Strobe Light Holder LE on an arm body or Direct Base III etc. via clamp. The ball-joint is made from plastic to provide flexible strobe positioning without loosening a clamp to provide comfortable strobe aiming.
■Full length: 76mm (3.0in)
■Effective length: 58mm (2.3in)
■Weight: 35g (1.2oz) [air] / approx.16g (0.6oz) [underwater]
■Compatible strobe/light etc.
Z-330, S-2000, Z-240, D-2000,
D-2000S, D-2000W/Wn, D-180, D-180S, Z-220F, Z-220F, Z-220S,
Double Light Holder LE, Quad Light Holder LE, Strobe Light Holder LE,
SD Mount Cage for HERO3/3+, SD Mount Cage for HERO3/3+/4, SD Front Mask STD
NOTE: 
For LALAMOVE and AP CARGO COURIER, please choose "Pick-up" under Delivery Method upon check out. Shipping/Delivery fee will collect upon arrival of your item/s.