---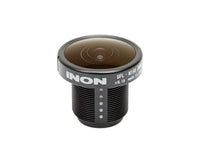 Requires one of the following:

A complete compatibility chart for this lens is available from Inon.

Compact fisheye lens to shoot through eyes of small marine life, so-called "insect-eye lens" imaging. The lens is designed to use at approx. 80mm zoom position (35mm film equivalent) not as like standard wide conversion lens.(*4)
Underwater view angle is 150°. The subject side lens is compact diameter 32.9mm and minimum focal length is 0cm to capture a tiny subject in entire image together with background.
The UFL-M150 ZM80 is an afocal system conversion lens which does not affect brightness of combined master lens and enables you to use benefit of camera's AF (auto focus).
You can take full advantage of INON "S-TTL" Auto exposure of INON Z-240, D-2000, S-2000 to benefit appropriate exposure images simply by pressing shutter release button.
The lens barrel has threaded wall to adjust lens position back and forth to accommodate with different master lenses among many compact digital cameras (*5).
The UFL-M150 ZM80 is attached on compatible camera housing via combination of "Mount Base" which is exclusively designed for each housing and appropriate "Mount Converter".

NOTE: 
For LALAMOVE and AP CARGO COURIER, please choose "Pick-up" under Delivery Method upon check out. Shipping/Delivery fee will collect upon arrival of your item/s.