---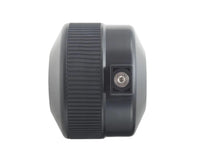 The Carbon Telescopic Arm is composed of two or three arm sections that allow you to have any desired length easily and quickly by loosening/tightening the lock dial only at the half turn. Each arm section is made of multilayer carbon fiber pipe for lightweight and durability.
The Carbon Telescopic Arm simplifies the lighting system and makes the camera system more compact comparing to the conventional arm system which requires multiple arms connecting with clamps to adjust the distance between the camera and strobe/light. Additionally, the Carbon Telescopic Arm can be used as an adjustable stick for an action camera such as GoPro® to shoot selfies or follow shot. Also usable as tripod legs for INON UW Tripod Hub. Four different lengths of Carbon Telescopic Arm products are available for different applications.
SPECIFICATIONS:
S – 84mm
Buoyancy: 360g (12.7oz) [underwater]
Weight: 171g (6.0oz) [air]
Outer diameter: 103mm (4.0in) 
Full length: 84mm (3.3in)
COMPATIBLE ARM:
Carbon Telescopic Arm S/M/L
COMPATIBLE ACCESSORY:
Lens Holder for Float Arm
Shoe Base Spacer
NOTE: 
For LALAMOVE and AP CARGO COURIER, please choose "Pick-up" under Delivery Method upon check out. Shipping/Delivery fee will be collected upon arrival of your item/s.