---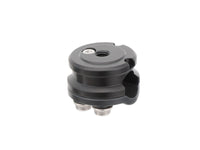 The M6 Joint is an optional product to attach the Direct Base III or Direct Base YS RT on a Stick Arm or Multi Ball Arm (*1) to hold a strobe or LED flashlight on the middle of arm (*2).
 
(*1) Unable to attach on the "Multi Ball Arm SS".
(*2) The Direct Base III combined with an arm via this product, can hold single strobe or two LED flashlights with the Clamp III but not able to hold any heavier combination like a strobe and an LED flashlight together, three or more LED flashlights or attaching single strobe or two LED flashlights via arm with two or more Clamp III.
 

  Weight: 24g (0.8oz) [air] / approx.15g (0.5oz) [underwater]
 
👍 Compatible arm
Stick Arm XS-T/SS-T/S-T/M-T/L
Multi Ball Arm S/ML/L/LL/XL
NOTE: 
For LALAMOVE and AP CARGO COURIER, please choose "Pick-up" under Delivery Method upon check out. Shipping/Delivery fee will collect upon arrival of your item/s.