---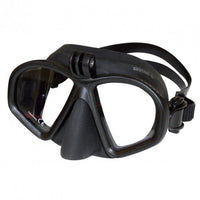 Low volume mask

Integrated attachment for a Go Pro type action camera

Huge field of vision

Extremely comfortable silicon skirt
Attachment to hold an action cam to film your dives
Fitted with an integrated holder for a top-mounted Go Pro type action camera
Camera holder located on the top of the mask to avoid impacting the comfort and water tightness of the skirt; camera aligned horizontally to capture images easily within the field of vision of the SCUBA diver or spearfisher
Rim designed to provide solid support for the holder and the camera
Holder allows the camera to be set at the angle required
Very small volume (125 cm3) makes the mask ideal for taking pictures while SCUBA diving, free diving, spearfishing or snorkeling.
Large field of vision ideal for divers who want to:
Keep a close eye on their surroundings and whatever they choose to film
Take advantage of the exceptionally wide angle image covered by the camera
The very small internal volume of the Beuchat GP1 mask reduces the amount of effort needed to equalise pressure. This small volume combines with the micro-adjustable ultra-flexible anallergic silicon skirt to make the GP1 an extremely comfortable mask to wear. Used with a camera attached, the mask remains securely balanced on the face even during long dives.
Tempered glass lenses
NOTE: 
For LALAMOVE and AP CARGO COURIER, please choose "Pick-up" under Delivery Method upon check out. Shipping/Delivery fee will be collected upon arrival of your item/s.