---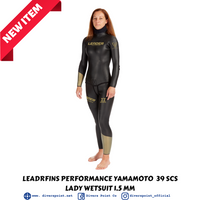 The woman's freediving Performance wetsuit are made of 1.5 mm neoprene. The inside is in super stretch Yamamoto nylon, while the outside is Yamamoto SCS smoothskin in black. The split provides this wetsuit with high softness and remarkable comfort with super stretch feeling.
The main features of the Performance Yamamoto SCS wetsuit men's are:

Excellent elasticity and resistance to compression during freediving
Odorless (inner coating does not hold bad smells)
Thermal Protection (high density neoprene provides a minimum compressional in deep and lower thermal loss)
Body Fit ( minimizes water infiltration)
Strength (Neoprene is highly resistant)
What is SCS?
SCS (Super Composite Skin) is a very unique material which by special processing is applied as a coating / layer over the surface of independent closed cell neoprene. The micelle structure on the rubber surface repels water when in contact with air, and reduces the surface resistance when in contact water. The coefficient of surface resistance is under 1/10 of conventional smoothskin in the dry and 1/100 in the wet. This super low resistance of SCS gives marine suits many function advantages. SCS is an extremely revolutionary material which now allows the development of a new type of concept in marine suits.
Easy to Put on and Take off-Very Comfortable ! (Efficiency when SCS is used inside garment)
SCS is very smooth to the touch and putting a suit on or taking it off can be done very easily.In addition, unlike jersey, as SCS dries very quickly, uncomfortable feeling is never experienced, even when re-wearing a soaked suit.
● Anti-Bacteria : SCS doesn't allow the growth of bacteria and keeps a suit clean.
● High Stretchability : SCS optimizes body fit allowing improved ease of movement.
● High Heat Insulation : SCS provides high heat insulation due to its very low heat conduction.
Increased Speed ! (Efficiency when SCS is used outside garment)
Super low resistance of SCS in the water makes it possible to dive / swim much faster. SCS allows the needs of divers, triathletes and swimmers to be achieved, that is, "FASTER SPEED".
● Light Weight : SCS does not absorb water.
● High Stretchability : SCS provides comfort and extra freedom of movement.
● High Heat Insulation : SCS keeps the body warmer decreasing body fatigue.
● High Durability : SCS is very durable and abrasion resistant.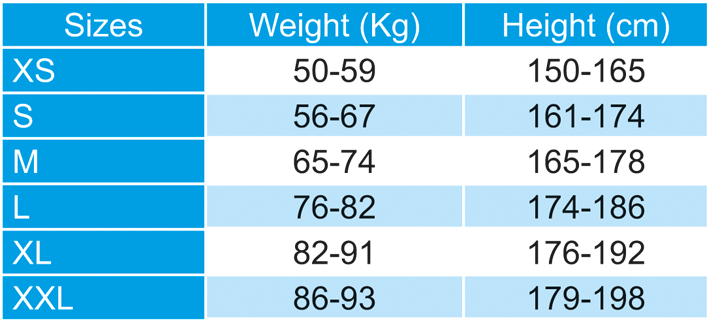 NOTE: 
For LALAMOVE and AP CARGO COURIER, please choose "Pick-up" under Delivery Method upon check out. Shipping/Delivery fee will be collected upon arrival of your item/s.