---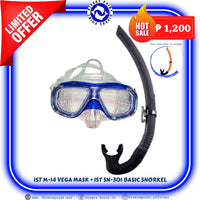 SN-301 BASIC SNORKEL
Non-purge snorkel with a stout snorkel holder.
The silicone mouthpiece provides significant comfort which decreases the level of jaw fatigue.
M-14 VEGA MASK
This purposely built spearfishing mask is low in volume and comfortable to use.

Compact mask with low internal volume for easy clearing

Tempered, scratch resistant glass lenses for maximum clarity and safety

Swiveling buckles attach to the skirt, will not interfere with fitting

Mask can be folded flat for compact packing, ideal for use in a tech redundancy kit.